KEY BENEFITS
Explore the high-level protective benefits of this technology application.
Containing a reliable barrier against pathogens found in blood and body fluids.
Prevents penetration of NFPA commonly encountered fireground chemicals. The membrane properties remain intact even after contamination.
Durably waterproof to keep the feet dry and comfortable on the job.
Highly breathable, which is crucial for allowing sweat vapor to escape during strenuous activities.
Optimized shoe constructions enable lighter weight and increase mobility and agility.
GORE-TEX CROSSTECH® fire boots are wet flexed 5X the NFPA requirement to ensure product performance while in use.
Boots with GORE-TEX CROSSTECH® laminates have been proven to withstand high heat exposure and still deliver excellent breathability and reliable waterproofness.

*For Firefighters and Tech Rescue Boots only.
OPTIMUM LEVELS OF COMFORT AND PROTECTION IN FOOTWEAR
Footwear with GORE-TEX CROSSTECH® moisture barriers leads the industry in providing durable protection and highly breathable comfort for the feet. With the addition of GORE-TEX CROSSTECH® technology, the footwear now also provides a crucial barrier against the penetration of viruses and bacteria found in blood and body fluids as well as against the penetration of common chemicals. No other manufacturer requires the level of testing Gore does to ensure the footwear performs over and above the standards. We begin by ensuring that every boot liner is durably waterproof, then expose the finished boot to a battery of additional tests to ensure it's ready for the challenge. This means professionals working in emergency situations no longer need to compromise on either comfort or protection: This footwear offers optimum levels of both.
Firefighters, law enforcement and technical rescue responders face several common challenges while working, including foul weather, common chemical exposure and the risk of coming into contact with pathogens found in blood and body fluids.
GORE-TEX CROSSTECH® laminates provide protection against these threats, while also offering unparalleled comfort in the form of breathability. This enables feet to stay dry, less prone to injury. and reduce heat stress that can lead to fatigue. When professionals are running up and down stairs, climbing ladders and navigating through unpredictable terrains while responding to emergencies, their footwear needs to weigh as little as possible so they can perform effectively. Leather boots made with GORE-TEX CROSSTECH® footwear laminate are lightweight, form-fitting, and more comfortable - helping wearers to stay energized for longer. With these benefits combined with the right fit, optimum traction, and flexible movement, boots made with GORE-TEX CROSSTECH® footwear laminate work with the wearer and allows them to focus on the task ahead.
Ideal for
The technology has been developed with real-work situations in mind, so that hard-working professionals in challenging environments can stay protected, and simply focus on their important work.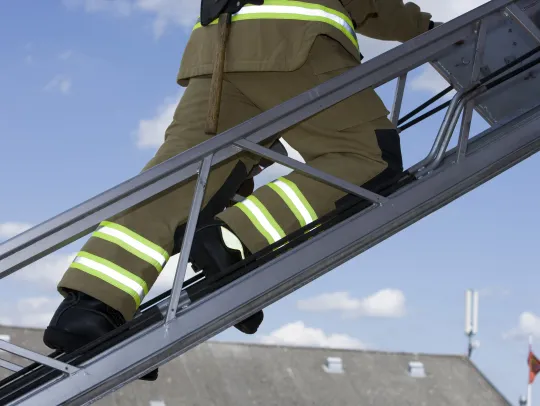 Structural Firefighters
Providing industry-leading comfort and durable protection from the everyday challenges firefighters face, including pathogens found in blood and body fluids.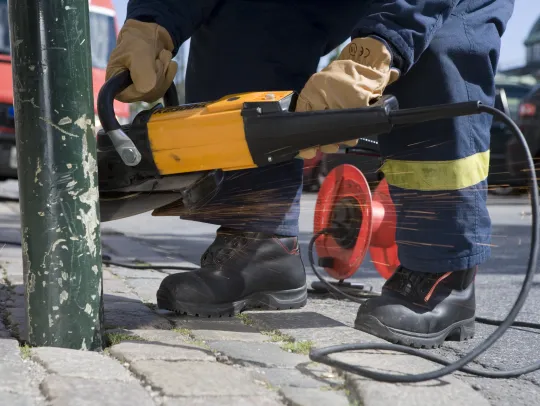 Technical Rescue
Improved fit, comfort, and long-lasting protection allows for greater agility when responding to an emergency.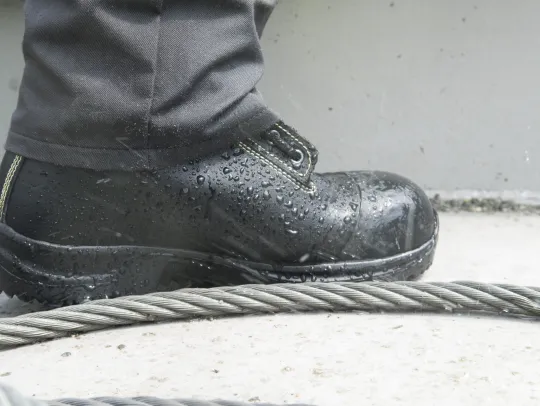 Law Enforcement
Reliable law enforcement footwear that keeps feet comfortable and protected in all kinds of conditions.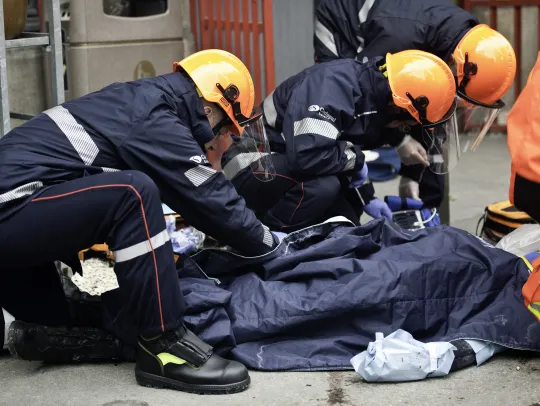 Emergency Medical Professionals
Protection from exposure to blood-borne and viral pathogens, garments with GORE-TEX CROSSTECH® laminates allow medical professionals to focus on the job.
Standards
OEKO-TEX® Standard 100, Class II
NFPA 1971 - Protective Ensembles for Structural Fire Fighting and Proximity Fire Fighting
NFPA 1951 - Protective Ensembles for Technical Rescue Incidents
NFPA 1999 – Standard on protective clothing and ensembles for Emergency Medical Operations