KEY BENEFITS
Explore the high-level protective benefits of this technology
Emergencies can happen in any kind of weather – that's why GORE-TEX CROSSTECH® fabrics are durably waterproof as well as resistant to liquid chemicals commonly found at the fireground.
This highly breathable fabric enables perspiration to escape - helping to effectively maintain body core temperature.
We've put our protective barriers through more than five times the number of wash cycles required by NFPA, and they showed no leaks, tears, or deterioration in protection.
This liquid-proof technology prevents the penetration of blood and body fluids that can contain viruses and bacteria, which is critical for first responders.
Prevents penetration of NFPA commonly encountered fireground chemicals. The membrane properties remain intact even after contamination.
When laminated to a flame-resistant material, the technology has been proven to withstand high heat exposures and still deliver excellent breathability and reliable protective performance.
Unparalleled comfort and protection for emergency professionals
GORE-TEX CROSSTECH® fabrics can be incorporated into garments, footwear and gloves to act as a powerful barrier against pathogens found in blood and body fluids, in addition to common chemicals such as battery acid and hydraulic fluid. In combination with this rugged protection, GORE-TEX CROSSTECH® fabrics are durably waterproof and highly breathable, helping first responders to manage their heat stress better.
The protective barrier remains intact even after gear is exposed to extreme temperatures and frequent washing.

Medical and safety professionals need protection against pathogens found in blood and body fluids since over half of fire department calls are for medical emergencies. NFPA-compliant gear using GORE-TEX CROSSTECH® fabrics have been developed specifically for some very demanding jobs - leaving wearers free to focus on their tasks as first responders.

Working in physically demanding emergency situations can create a risk of heat exhaustion. Lightweight, flexible, and breathable GORE-TEX CROSSTECH® fabrics allow body heat to escape, which enables the wearer to manage their body core temperature better - resulting in increased safety and performance.

Fabric durability is an important part of maintaining protection. Field testing has shown that GORE-TEX CROSSTECH® fabrics provide enhanced durability, call after call.
Ideal for
The technology has been developed with real-work situations in mind, so that hard-working professionals in challenging environments can stay protected, and simply focus on their important work.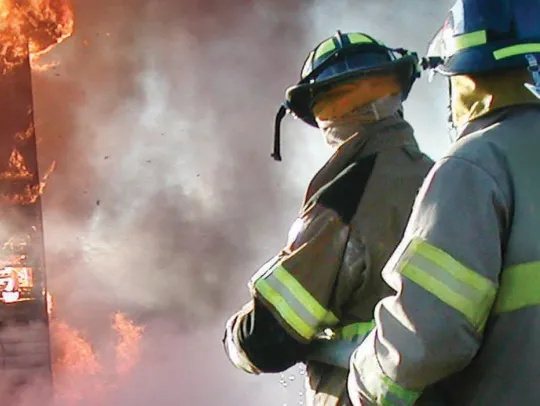 Structural firefighters
GORE-TEX CROSSTECH® moisture barriers offer superior thermal stability by maintaining their barrier performance and breathability after exposure to extreme heat — all while providing liquid penetration resistance to blood, body fluids, common chemicals, and water.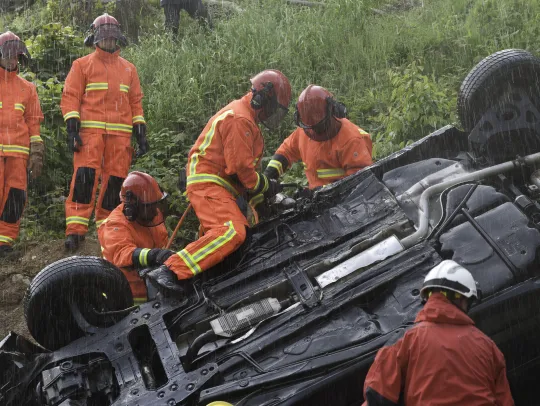 Search & Technical Rescue missions
Currently the only barrier used in NFPA 1951 compliant garments. It protects against the penetration of blood, body fluids and common chemicals.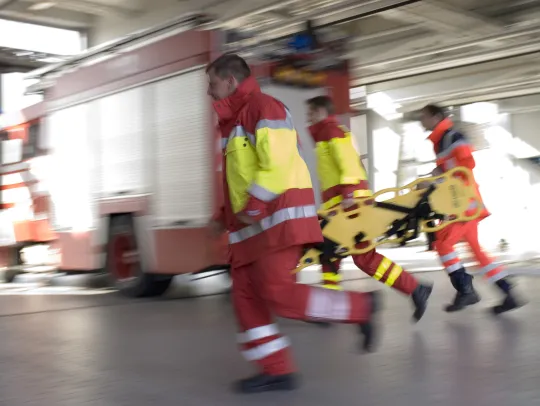 Emergency medical personnel
Industry-leading protection against hazards at the emergency scene, including pathogens found in blood and other body fluids.
Standards
Certified to OEKO-TEX® Standard 100, Class II

NFPA 1951:
Standard on Protective Ensembles for Technical Rescue Incidents

NFPA 1971:
Standard on Protective Ensembles for Structural Fire Fighting and Proximity Fire Fighting

NFPA 1999:
Standard on Protective Ensembles for Emergency Medical Operations