Respond Confidently During Tactical Entry or Search and Rescue Missions in Contaminated Environments
For CBRN responses that may include collapsed structures or confined spaces during tactical entry or search & rescue missions, you need a suit that can withstanding the harsh surroundings found in these types of events. Also, these types of large-scale events require extended hours in environments where heat exhaustion can often be an issue; therefore, having a garment that helps address heat stress can be very beneficial.
Made with CHEMPAK® selectively permeable fabric by GORE-TEX LABS, the Ruggedized Class 3 suit delivers extremely durable certified protection in a highly breathable, form-fitting design that enables you to remain engaged longer in contaminated environments.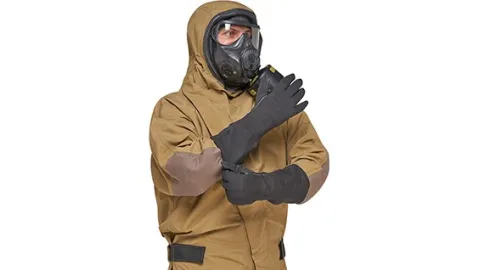 Typical Applications
Technical search and rescue
Confined space rescue
Tactical entry
Physical security
Warm-zone patrol
Decon operations
Contaminated casualty transport and handling
Advantages of Ruggedized Class 3 Suit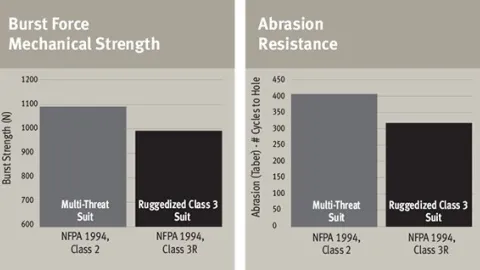 Durable Protection
The Ruggedized Class 3 suit made of CHEMPAK® selectively permeable fabric by GORE-TEX LABS delivers extremely durable certified protection, even after exposure to field contaminants such as seawater, sweat, and hydraulic fluid. And for requirements identified in a federal government project, this suit provides a minimum of four hours of permeation protection.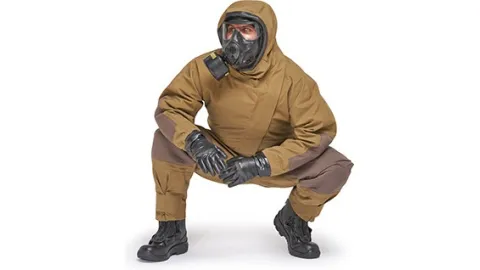 Excellent Mobility in Hazardous Environments
Reinforced and padded at critical stress points for a greater level of cut and puncture resistance, the Ruggedized Class 3 suit's form-fitting, tactical design enables you to maneuver more confidently through tight spaces and rubble piles.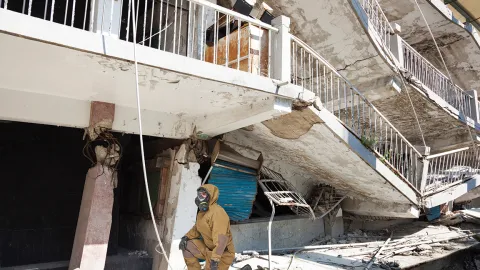 Longer Mission Time Due to High Breathability
Materials used in protective clothing can interfere with the flow of sweat vapor into the environment, which increases heat stress. The evaporative resistance test (Ret), included in the 2018 edition of the NFPA 1994 Standard, measures material breathability. This test determines the amount of resistance sweat vapor encounters when passing through a fabric: the lower the resistance value, the more breathable the fabric is. When tested for NFPA 1994 component certification, the CHEMPAK® selectively permeable fabric by GORE-TEX LABS measured almost 2.5 times lower than the value required to be certified. Because of its highly breathable barrier, the Ruggedized Class 3 suit enables you to stay actively involved significantly longer than an impermeable suit does.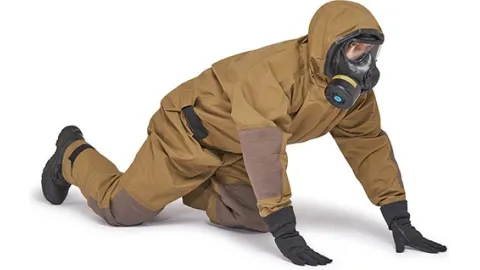 Certified Protection
This reusable suit made of CHEMPAK® selectively permeable fabric by GORE-TEX LABS is certified to both the NFPA 1994, Class 3R Standard and the NFPA 1992 Standard. Ideal for tactical operations in CBRN warm zone environments, this fabric provides protection against
liquid and vapor chemicals,
radiological and biological particulates,
liquid splash,
blood and body fluids, and
emerging pharmaceuticals such as fentanyl.
This certification and its AEL/SEL qualifications make the suit eligible for grant funding.