Protection against ChemBio hazards during physically demanding missions
For those physically demanding missions in a ChemBio hazardous environment, the Multi-Threat suit made with CHEMPAK® ultra barrier fabric by GORE-TEX LABS is the solution. This durable fabric provides long-lasting protection so you can move easily through rugged terrain and abrasive environments to reach the most challenging emergency scenes.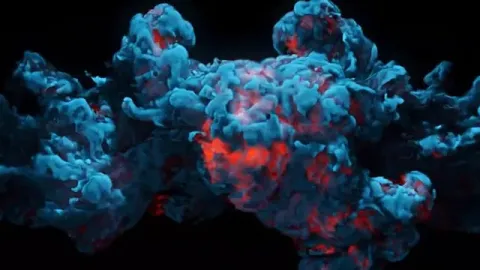 Multi-Threat suits, made with CHEMPAK® ultra barrier fabric by GORE-TEX LABS, are ideal for completing physically demanding missions in a chemical or CBRN hazardous environment. Multi-Threat suits use a lightweight protective barrier and durable construction to provide hot-zone protection while also providing the ease and range of motion necessary to respond to challenging incidents. These suits are certified to the NFPA 1992 and NFPA 1994, Class 1, 2, and 2R and are classified as a non-encapsulating Level A.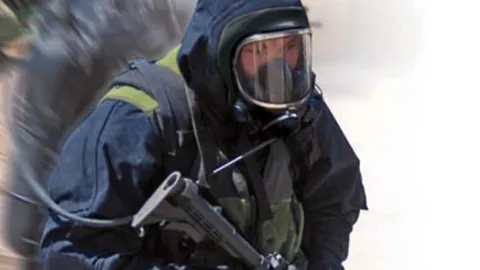 Typical Applications
Since the suit provides improved mobility and has excellent performance in the vapor ingress (MIST) test, Multi-Threat garments are ideal for physically demanding operations that potentially involve blister agents, nerve agents, toxic industrial chemicals, blood and body fluids at or above IDLH – operations such as:
Technical rescue
SWAT and high-risk entry
WMD or terrorist incident
Explosive Ordinance Disposal
Hazardous material emergency
Containment and decontamination
Search and rescue missions in extremely rugged terrain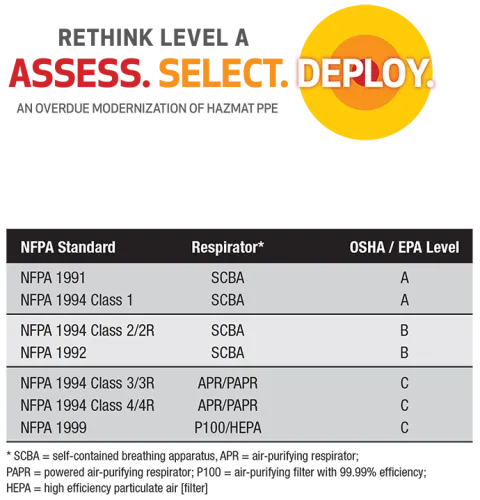 What's New
A new Class 1 in the NFPA 1994 Standard (2018 edition) for PPE is now available, which may open up new choices for your consideration. Before, the certified choices for highly protective garments were limited to fully encapsulated Level A ensembles. Now, the certified choices include non-encapsulated Level A ensembles in addition to fully encapsulated designs.
The CHEMPAK® ultra barrier fabric by GORE-TEX LABS used in the Multi-threat suit is certified to the new NFPA 1994, Class 1 Standard (2018 edition).
Thought leaders and Industry experts in the CBRN and Hazmat field created a website to help answer some common questions.
Please note that each hazardous situation is unique and requires fire departments and emergency response personnel to make a risk assessment based on the conditions and information available. The choice of protective gear is yours to make based on current industry information and Standards, and based on the conditions and assessed risk at the scene. 
Advantages of Multi-Threat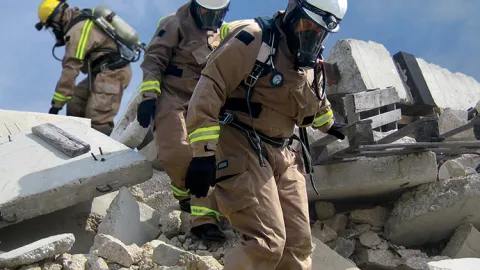 Improved mobility and sustainability during extended missions
When responding to an incident with potentially hazardous materials, you need to be protected AND must be able to move freely. Furthermore, you may have to perform physically demanding activities that increase the risk of heat stress. Multi-Threat suits made of CHEMPAK® ultra barrier fabric by GORE-TEX LABS give unencumbered movement and improved peripheral visibility. Wetting down the outer textile layer of the fabric reduces your heat stress through a combination of evaporative and conductive cooling (heat loss by water evaporating off the garment's surface). The result — exceptional protection and enhanced capability.
Learn about heat stress management advantages of the Multi-Threat suit.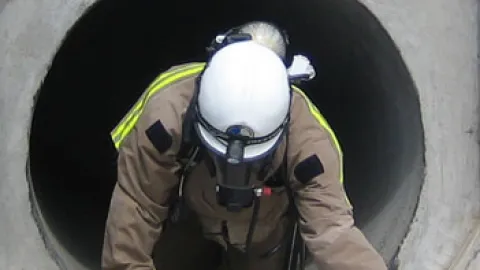 Added confidence
The protection provided by the suit is durable because the protective barrier is laminated between two layers of flame-resistant textiles, one of which is a high-strength textile that resists cuts, tears, and punctures. Also, the suit is constructed with high-strength sewn and sealed seams. The suit is ideal for entering technically challenging CBRN environments.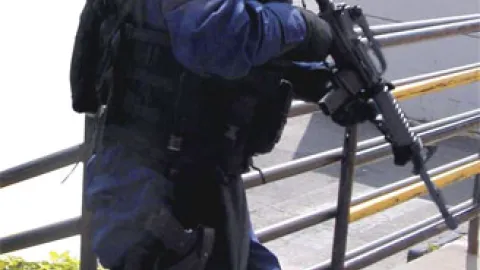 Re-usability
In a documented field trial, garments were worn 10 times during physically demanding activities and machine laundered after each 5 wear interval. Evaluation of the garments' physical and barrier properties revealed that the worn & washed fabric still met applicable requirements of the NFPA Standard after 10 wear and 2 wash cycles.
Request a copy of the white paper showing the Multi-threat garment's performance in a multi-use wear trial.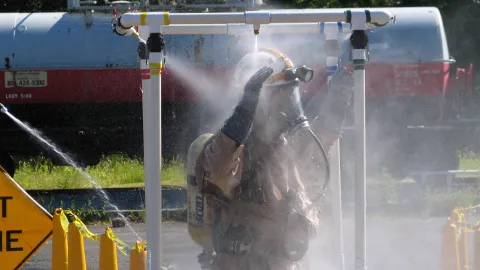 Decontamination
Data from a simulated decontamination study indicates that the CHEMPAK® ultra barrier fabric by GORE-TEX LABS used in Multi-Threat suits can be effectively decontaminated to a level comparable to a traditional multi-layer non-textile PPE material.
Learn more about our study on residual chemical concentration levels after chemical exposure and decontamination.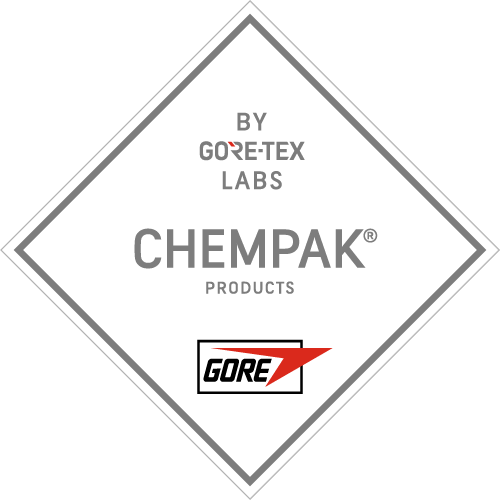 WHY CHEMPAK® FABRICS BY GORE-TEX LABS
Gore manufactures a range of barrier fabrics that offer enhanced functionality in chemical and biological environments. CHEMPAK® ultra barrier fabric by GORE-TEX LABS is lightweight and impermeable, and it provides a high level of protection against a broad range of toxic industrial chemicals and CB warfare agents.