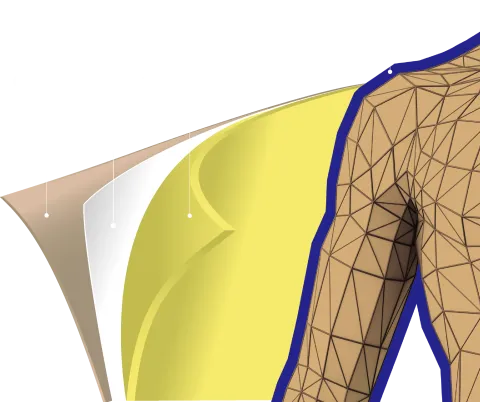 Issues related to firefighter safety and protection are extremely important to W. L. Gore & Associates. For 40 years, Gore has been continuously researching, developing and manufacturing a portfolio of products for firefighters — to offer the best range of products we can, to enable firefighters to do their jobs safely and effectively.
As a material science company, Gore carefully selects materials most appropriate for the unique specifications of each product and end use application.
We follow the developing science, do our own extensive internal testing and invest in independent research to develop high performing products that meet or exceed the applicable performance and safety standards in the geographies where our products are sold. We are committed to innovation and seek continuous improvement in our products to meet the needs of firefighters and comply with the appropriate industry standards.
Structural firefighting apparel demands materials with properties that provide the highest level of thermal, physical and biological protection to the men and women working in harsh and often dangerous conditions. For example, GORE® moisture barriers, a component of structural firefighting turnout gear, are fabric laminates composed of flame resistant (FR) textiles, adhesives, coatings, and a thin waterproof breathable membrane. GORE® moisture barriers for turnout gear are OEKO-TEX® Standard 100 certified, an international safety standard for textile products.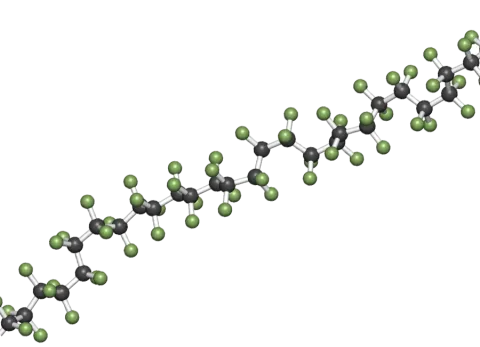 POLYTETRAFLUOROETHYLENE (PTFE)
Gore uses a fluoropolymer, ePTFE (an expanded form of PTFE) for the thin waterproof and breathable membranes at the heart of all of our GORE® moisture barrier products for the firefighting industry.
Fluoropolymers, like PTFE, are valuable materials with unique properties that enable high performing products across a range of industries and end uses. For more than 60 years, Gore has applied its deep understanding and expertise in working with PTFE to develop products of high societal value ranging from enabling technology for industrial filtration, to communication systems used onboard aircraft and in space exploration, to implantable medical devices that save and improve lives.
The chemical and physical properties of PTFE make it ideal for use in demanding applications with harsh conditions such as structural firefighting. For example, PTFE is insoluble in water, durable, and extremely stable — enabling it to withstand exposure to a wide range of corrosive substances and maintain its performance in extreme temperatures. To Gore's knowledge, PTFE-based moisture barriers are presently the only available technology for turnout jackets and pants that meets the current edition of NFPA 1971: Standard on Protective Ensembles for Structural Fire Fighting and Proximity Fire Fighting.
PER AND POLY FLUOROALKYL SUBSTANCES (PFAS)
PFAS stands for Per- and Polyfluoroalkyl substances and describes a wide range of chemistries with very different properties and uses. Because there are clear and important distinctions between the more than 4,700 materials often referred to as PFAS, it is a very complex topic. Therefore, when communicating about PFAS, we believe it is important to be specific about the particular chemistries or type of PFAS being discussed.
There are significant distinctions between the chemical and physical properties of fluoropolymers like PTFE and other materials most often associated with the term PFAS. PTFE does meet the very broad definition of the term despite the important distinctions. Often, however, when people are using the term PFAS, they are referring to non-polymer PFAS such as PFOA.
Historically, residual PFOA could be measured in some of our fabrics at trace levels, though the products were safe for their intended use. In alignment with the EPA PFOA Stewardship program, Gore worked closely with its suppliers to remove PFOA from its global fabrics supply chain. This was successfully completed in 2013.
To evaluate potential exposures and associated risks of cancer for firefighters associated with any traces of these small non-polymer PFAS that may remain in our products, Gore has conducted exposure assessments on our moisture barriers with both our historic and current moisture barrier products. Gore conducted these assessments in accordance with EPA-approved methodologies, incorporating publicly available data and relevant Gore product information. Exposures and risks were calculated using a series of standard equations for multiple potential routes of exposure, including skin contact, hand-to-mouth contact, ingestion of dust, and inhalation of particulates. The assessments determined that even if the product is worn over an entire career of a firefighter, the highest potential level of non-polymer PFAS in Gore's moisture barriers was well below the levels of exposure that were determined to be safe. These assessments are in addition to the moisture barrier products meeting the criteria for OEKO-TEX® Standard 100 certification.
DURABLE WATER AND OIL REPELLANT TREATMENTS
Durable water and oil repellent treatments (DWR) are often applied to Gore's moisture barrier products. These treatments provide important water and oil repellency for the laminate to help keep water and other contaminates from soaking into the barrier materials, and also help maintain the performance of the waterproof membrane over time. High-performing durable water repellency treatments can also reduce the burden associated with wet fabrics, which can also potentially impact performance.
The high-performing DWR treatments that Gore currently uses in its moisture barrier products are based on a type of PFAS known as short-chain side chain fluorinated polymers, which may contain trace residuals of non-polymer PFAS. We recognize that questions are being asked about these trace non-polymer PFAS residuals found in the DWR treatments. These trace non-polymer PFAS were included in our exposure assessments. Gore actively monitors the science regarding DWR chemistries and is actively exploring new durable water and oil repellency treatments that utilize different chemistries than the current side chain fluorinated polymer treatments. Our goal is to offer our customers even more choices as we identify alternative technology that can be used without making significant compromises in product performance.
For more than 20 years, Gore has also offered a moisture barrier that does not contain water and oil repellency treatments, the GORE® RT7100 moisture barrier. This product is compliant to NFPA 1971, yet the absence of a DWR treatment can make it more susceptible to picking up water and oil in use relative to other GORE® moisture barriers.
GOING FORWARD
Gore is unwavering in our commitment to the safety of the men and women who depend on our moisture barrier products when working in harsh and often dangerous conditions. In response to the requests by our customers and firefighters to have an even wider range of technology choices available, Gore plans to offer an additional product that does not contain DWR treatments. It is important to recognize, however, the potential for performance tradeoffs over the life of those products.
Gore will continue to evaluate the developing science and information and apply that knowledge to our product development efforts to inform our material choices and ensure that our products offer an acceptable combination of performance, breathability, durability, and protection. Our research and development efforts also include tapping into Gore's extensive material science expertise and network of resources to identify potential additional technologies that could possibly meet the NFPA 1971 Standard. We are working hard to address these complex challenges.
THE MANUFACTURE AND CHARACTERISTICS OF PTFE