Elkton, Maryland, September 19, 2012 – W. L. Gore & Associates, Inc., has announced a new line of products engineered specifically for today's patrol officer. The majority of these officers spend their time moving between the patrol car and the outside environment. They need lightweight gear that provides protection from the elements when outside and breathable comfort when inside the car or station.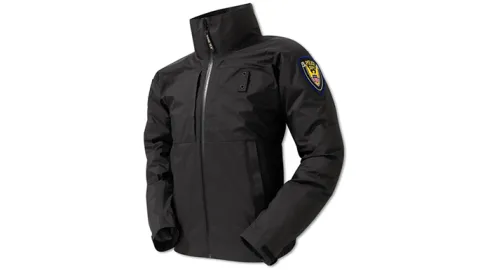 The first two products available in the GORE® advanced products for law enforcement line — the GORE-TEX lightweight patrol shell and the WINDSTOPPER® patrol soft shell — allow officers to put the jacket on and leave it on for the entire shift. In addition to protecting the officers from inclement weather, these highly breathable shells keep them comfortable while moving in and out of the patrol car. The modern fit and style of these shells improve range of motion, and they are also perfect for layering in colder conditions. Designed in several styles, these jackets are available with additional features needed to make the officers' job easier, such as badge tabs, epaulets, side-zip and draw-string adjustments, and concealable reflectors.
The GORE-TEX lightweight patrol shell delivers comfort at low and high activity levels, with the durable waterproof, windproof and breathable protection that comes with every GORE-TEX product. Its unique construction makes it ideal for wet or dry weather in cool to moderately warm temperatures.
The windproof and water-resistant WINDSTOPPER® patrol soft shell is the lightweight solution for patrol officers during dry or damp weather in cold to cool temperatures. The form-fitting, stretch construction of the WINDSTOPPER® fabric is also extremely quiet.
According to Steve Lampo, Gore's North American product manager for law enforcement duty outerwear, their development team spent time riding along with officers in different parts of the country to gain a better understanding of their needs — a concept they refer to as fitness for use and one that is crucial to their product development. "The officers spent much of each shift getting in and out of the car, whether handling traffic stops, responding to incidents, or stopping by the station. They were experiencing a broad range of temperatures and weather conditions. When we talked to chiefs, they stressed the importance of providing the officers a jacket they would actually wear rather than one they just throw in the back seat of the car. If officers aren't going to wear a jacket, why buy it? The durable and highly breathable garment is based on specialized technologies developed for military and highly active outdoor applications. The result is durable protection with extreme comfort so that the officers actually want to wear their jacket. They can put it on at the beginning of the shift and wear it comfortably until the shift ends."
Lampo also explained a new purchasing model for this product line. "In response to the departments' need for more purchasing flexibility, we have worked with our licensed manufacturers to develop a new distribution model. In addition to the traditional model in which you purchase through a dealer or retailer, several manufacturers are now offering the option to purchase these products directly." For more information about the new GORE® advanced products for law enforcement, stop by Gore's booth #2019 at IACP 2012, visit www.GoreProtectiveFabrics.com/PatrolOfficers, or call 800.431.GORE (4673).
About W. L. Gore & Associates, Inc.
Gore is a technology-driven company focused on discovery and product innovation. Well-known for waterproof, breathable GORE-TEX fabric, the company's portfolio includes everything from high-performance fabrics and implantable medical devices to industrial manufacturing components and aerospace electronics. Founded in 1958 and headquartered in Newark, Delaware, Gore employs approximately 10,000 associates in 30 countries worldwide. Gore is one of a select few companies to appear on all of the U.S. "100 Best Companies to Work For" lists since the rankings debuted in 1984. The company also appears regularly on similar lists around the world.
# # #
Media Contact:
Marie Y. Smith
302.994.0117
mysmith115@comcast.net
GORE, GORE-TEX, WINDSTOPPER, and design are trademarks of W. L. Gore & Associates, Inc.