Test the new ALTAMA APEX Military Combat Boot with new GORE-TEX THERMIUM™ product technology and incorporating the next generation extremely breathable GORE-TEX membrane to keep your feet dry.
In this GORE-TEX user trial, HYVE, a market research agency, will be collecting written feedback from all trial participants related to how ALTAMA APEX SBM boot proves itself in daily use.
HYVE will be seeking US military personnel to wear test these boots during the entire trial period. HYVE will not provide any compensation for participation in the trial wear test.
GORE and ALTAMA will provide the use of the boots for the trial period. Selected participants will wear them and provide feedback to HYVE. Such feedback will include, but may not be limited to, comfort and performance when the boots are worn on long footpaths as well as when driving, when standing, sprinting or jumping and whether the boots are worn outdoors or indoors. In case of rain as well as in dry, warm summer weather or any other weather conditions experienced. Your opinion is important to us! If selected to take part in the user trial, you may intensively test your boots in warm and cold seasons. In exchange for the use of the boots during the trial period, we ask selected participants to provide feedback to HYVE about comfort and quality of the product and materials. Selected participants will have an opportunity to wear the boots for at least 6 months during the trial period, to be able to tell us about long-term experiences. After the trial period, all participants will return the boots for further lab-Testing at GORE. For representative results, we are looking for individuals that will use the boots in different regions of the country that will experience different environment and potential weather extremes. All data collection and evaluation will be conducted by HYVE and is subject to HYVE's privacy policy.
Are you interested?
Submit your application before August 16th, 2021. Completing the questionnaire will take about 5 minutes. You will be asked to provide some basic information such as your name, contact information, boot size, and military function. We look forward to receiving your application!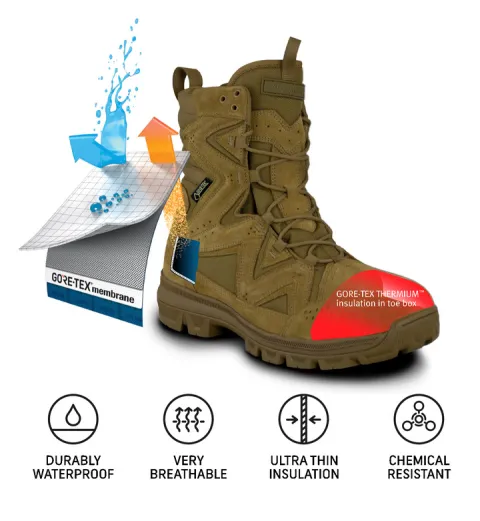 ALTAMA APEX SBM: the most versatile tactical boot
Extended temperature range for increased utility
Highly flexible and light weight
Next generation of extremely breathable GORE-TEX membrane
GORE-TEX THERMIUM™ insulation

Ultra-thin
Strategic placement
Novel insulation