Indianapolis, Indiana, April 22, 2015 – At the Fire Department Instructors Conference (FDIC), W. L. Gore & Associates announced the next level of turnout gear performance with the GORE® PARALLON™ liner system. This revolutionary multi-barrier system maintains thermal protection better when your gear gets wet and enables a level of breathability beyond what is available today. While this new system replaces the thermal barrier and moisture barrier in traditional turnout gear designs, it is currently certified to the NFPA 1971 Standard, 2013 edition with several outer shells.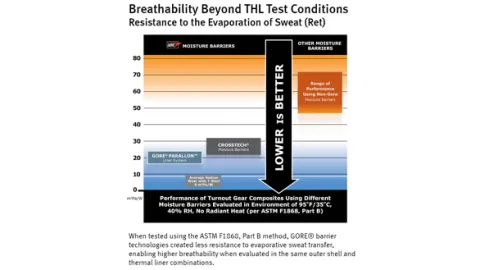 PROTECTION: As you work and sweat in turnout gear, moisture within the layers of your gear can change your thermal protection. The exclusive technologies of the GORE® PARALLON™ liner system help reduce potentially serious drops in thermal protection as your gear is exposed to moisture, particularly from sweat. This enables your gear to perform closer to the level that you expect when it is dry. When tested for an indicated time to 2nd degree burn in an ordinary fireground heat exposure (i.e., 0.2 cal/cm2sec), wet conventional gear lost 34 percent compared to when it was dry. However, the thermal protection of gear with the GORE® PARALLON™ liner system lost only 4 percent, remaining relatively unchanged after it became wet.
COMFORT: The environmental conditions in which you work can cause your body core temperature to rise, and even small increases can impair your performance and potentially affect your safety and effectiveness. The GORE® PARALLON™ liner system enables your turnout gear to deliver unparalleled breathability across the broadest range of conditions — a level beyond what is available today in NFPA 1971 compliant gear. Achieving the lowest resistance to your sweat vapor transmission through your gear, this liner system helps to reduce the physical strain of working in turnout gear and minimize potential increases in your body core temperature.
According to Allen Maples, North American Product Specialist in Gore's fire and public safety team, the technology behind the GORE® PARALLON™ liner system is a revolutionary shift in turnout gear performance for the fire industry. "For more than 35 years, Gore has been globally recognized as a pioneer in protection and human comfort science. We have combined our scientific research and deep product knowledge in heat stress, breathability, and barrier technologies to develop moisture barriers that are the most breathable in the broadest range of conditions. While CROSSTECH® moisture barriers provide the highest level of breathability in traditional turnout gear, the new GORE® PARALLON™ liner system takes breathability to a whole new level while also offering more consistent thermal protection." For more information, visit www.GoreParallon.com or call 800.431.GORE (4673).
ABOUT W. L. GORE & ASSOCIATES, INC.
Gore is a technology-driven company focused on discovery and product innovation. Well-known for waterproof, breathable GORE-TEX fabric, the company's portfolio includes everything from high-performance fabrics and implantable medical devices to industrial manufacturing components and aerospace electronics. Founded in 1958 and headquartered in Newark, Delaware, Gore employs more than 10,000 associates in 30 countries worldwide. Gore is one of a select few companies to appear on all of the U.S. "100 Best Companies to Work For" lists since the rankings debuted in 1984. The company also appears regularly on similar lists around the world. Learn more at www.gore.com.
# # # #
Media Contact:
Marie Y. Smith
302.994.0117