GORE-TEX Professional offers revolutionary protective fabrics for the warfighter that protect against changing weather, flash fires, and chemical/biological hazards allowing warfighters to focus on the mission, not the conditions.  Click the link below to contact a specialist for more information:
GORE-TEX Professional fabrics for Defense has been providing laminate technology solutions to the US Military for over 40 years. We spent some time with past Gore Associate Wayne von Stetton and former Navy SEAL Master Chief Scott Williams. Click below to read about the conversation and learn more about our ECWCS technology solutions.
OUR TECHNOLOGIES
Our range of innovative technologies have been engineered to meet the highest level of protection, comfort and reliability in Personal Protective Equipment, based on rigorous hazard testing for the industries we work with. Our reputation is built on our commitment to deliver products that are fit for their intended end use, or "Fitness for Use": this means that products equipped with these high-value fabrics have to measure up to the specific requirements of the wearer. Or, in other words, they have to perform as promised.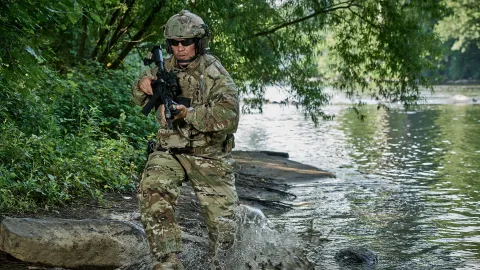 GORE-TEX Product Technology
GORE-TEX garments are not only world-renowned for their protective performance and comfort, but they are also tested and proven. These fabrics are durably waterproof, windproof, and breathable, keeping the US Military dry and comfortable for over 40 years. Our technology can be found in Garments (ECWCS Layer 6), Footwear, and Gloves.
Click Here to download more information about GORE-TEX product technology.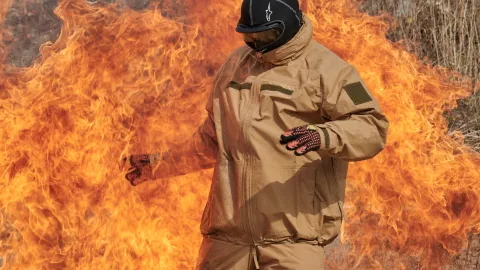 GORE-TEX PYRAD® Garments
Offering a lightweight solution for heat & flame protection, self-extinguishing, durably waterproof, windproof, breathable fabric. Providing confidence with thermal insulation, thermal stability and flame resistance.
The US Army and US Marine Corps have approved and incorporated GORE-TEX PYRAD® Fabric for use on the FR Fuel Handler's Suit.
The Army and US Air Force have switched to it for the Flame Retardant Environmental Ensemble Extreme Weather Outer Layer (FREE EWOL) for aviation and combat vehicle crewman.
The US Navy has approved military commercial versions of multiple styles by NSA/Wild Things as "Safe-to-Fly" for Aviation and Aircrew and "Safe-to-Use" for flight deck and maintainer personnel.
Click Here to download more information about GORE-TEX PYRAD® products.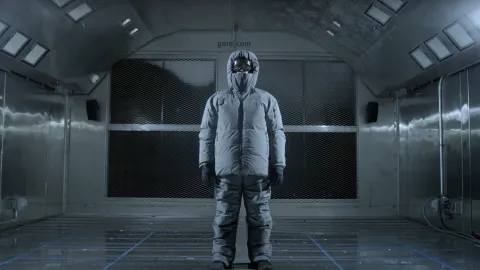 WINDSTOPPER® pRODUCT TECHNOLOGY BY GORE-TEX LABS
These products can offer protection in a wide range of weather conditions and user benefits (stretch, insulation, breathability, and weather protection). Enjoy freedom of design when building products with this technology, making products adaptable for specific needs and requirements in an array of conditions. Ideal for extremely breathable midweight base layers, wind shirts, and softshell jackets.
Click Here to download more information about WINDSTOPPER® product technology by GORE-TEX Labs.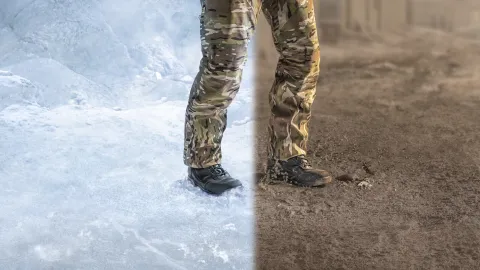 gore-tex footwear
GORE-TEX Footwear has been a staple in the battlefields with the US Army TWB for over 20 years. Offering tried and true durable waterproof, breathable, and lightweight protection, our technology provides the comfort users need in a wide range of conditions. With the ability to leverage various material and insulation packages, footwear can be specifically designed to meet the needs of a warfighter.
Click on the below links to download more about our following GORE-TEX Footwear technologies:
Gore-tex gloves
GORE-TEX gloves are durably waterproof, windproof, and breathable even after exposure to common battlefield contaminates. GORE-TEX Glove inserts are a key functional component that can easily be added to a wide range of gloves while finger movement is not restricted, yet hands remain dry, warm, and comfortable, even when under heavy strain.
Click Here to find out more about GORE-TEX Gloves.